Fiona Paterson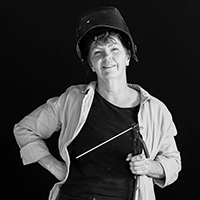 Fiona Paterson was born and raised in Zimbabwe. After a solid training as a graphic designer, she
worked in the advertising and design sector in Zimbabwe and London. For the last 18 years Fiona has
resided in France and has made France her home with her family. Since moving to France in 2003 she has
devoted herself fully to her passion for sculpture and painting. She exhibits her work and has
participated in many artistic residencies around France, Belgium, Italy and Taiwan.
Fiona has always been fascinated by textures, the effects of the elements and of time on wood and
metal objects. More recently, her evolution has led her to put her focus on art in nature with the use
of natural materials; adding a new facet to her interests, her experience, and her artistic
activities.
She is strongly influenced by her childhood in Zimbabwe, where recycling is an integral part of
life,making this an obvious and instinctive act. This is often reflected in her work, by her
sensitivity to nature, natural materials and landscapes.
Forms of art: Sculpture
Country: France - Country of origin: Zimbabwe - - Website - Facebook - Instagram
---