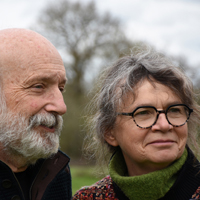 Francine Garnier: visual art
Francine Garnier's artistic activities range from painting to fiber art, from installation to spectacle and to artistic direction. His creations were presented in around fifty exhibitions and around forty often monumental in situ installations in France and abroad: Botanical gardens, art biennials, art centers, artistic trails, festivals… on earth, in trees, on the water, on the sand, on the walls, ramparts, stairs, by day, by night… Often in synergy with the world of sound, wire art develops there in vibratory networks weaving links to places.
Alain Engelaère: Music.
Journalist and artistic director for jazz for fifteen years, he organized and still organizes many concerts with, in particular, Bertrand Lubat, Louis Sclavis, Archie Shepp… For several years, his questioning of the acoustic universes that surround us has led him to shape pieces with natural sounds recorded on site: stones, tree trunks, reeds, rainwater, torrent… These materials have gradually replaced traditional instruments. He likes to call these pieces "ecomusic". His collaboration with the visual artist FG has contributed to the dissemination of these soundscapes at the heart of works and natural sites.
"For several years, part of our activity has been to create in situ, essentially in kind. The site is rediscovered while being disturbed by the creative event, and, we hope, questioned, poetized. We love our shared, synesthetic approach; by looking, we also listen, and we know from experience how one reinforces the other. Thus in our installations, a sound diffused in its heart slows down the gaze of the passer-by, leads him to be more attentive to what he sees and hears, in the work and around. »
Forms of art: visual 3D & 2D, music
Country: France - - Website