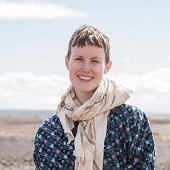 My interest in embodied practices has led me to weaving and harvesting to connect with tactile
materials and my works are created through labour-intensive processes, involving growing linen from
scratch and harvesting hyacinths from various waterways around Cape Town. I also underline my making
process with the concept of "mottainai," a Japanese idea that translates as "what a waste!" and
results in sustainable reuse that acknowledges the potential of the threadbare, the stained, and the
unravelling to be made into something treasured. The body is central in the making of my work from
the labour it performs harvesting and growing to the way my whole body is involved in weaving on my
backstrap loom. Thus, my work encourages an empathy and engagement in the viewer that is experienced
through how their own bodies relate to, navigate around, and often touch my sculptures. Taking an
age-old tradition of making clothes, vessels, and sacred objects, I push the act of weaving beyond
function, creating forms that are both familiar and strange, thus calling to embodied practices and
bodies/objects in motion. I use what is on hand, connecting various places, industry, agriculture,
and sites through context- specific ways of making with a tactile commitment to understanding and
experimenting with materials to produce pieces that encourage critical thinking about material
resources. I am deeply interested in textile ecologies (histories, practices, agriculture,
traditions, criticisms, relationships with nature) and the way that materials/fibres can "utter"
and reference/respond to these ecologies. Within this, I have begun interrogating my own need to
"farm" and "harvest" fibres as someone with Dutch heritage living in South Africa. I am exploring
how my practice represents instances of diachronic time and how it might reiterate or could resist
a colonial narrative. Moving forward with a personal artistic practice that is both sustainable and
deeply responsive to specific spaces, I am concerned with delicate ecologies and how we, as
artists, can gently create points of focus amongst all the noise of the world that leave
intentional traces (or, indeed, no traces) and minimize impact.
Forms of art: sculpture, public participation, installation, site-specific, video, performance
Country: South Africa - Country of origin: South Africa - - Website - Instagram