Marian Hulshof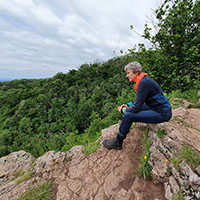 The source of my site-specific art is an inner dialogue with the place. I experience its silence, its
history, its geography and create in response to what exists. I'm intrigued by the influence of humans
on nature. Long ago nature could develop itself, but now in Europe few untouched nature subsists. An
art project is a temporary intervention in nature, nature remains predominant. Art and nature
strengthen each other. Art possibly brings the history of the site into life, evokes to discover the
place and creates awareness of how great nature is. It brings the public out of daily life. Through
the artists' eyes the visitor experiences new aspects of the site. Essential is the interaction
between public and artist. If possible I invite the inhabitants of the area to share the process of
creation.
Forms of art: visual 2D & 3D
Country: Nederland - Country of origin: Nederland - - Website - Facebook - Instagram
---