Tim Pugh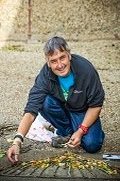 I am an Environmental Artist working with a wide range of mixed media and materials that are used to
create temporary installations and drawings. I attended Wrexham and Edinburgh College of Art,
graduating in 1989 with a degree in Ceramics. Since then, I have been self employed as a professional
artist exhibiting my work in a wide variety of galleries, museums and other venues across the UK and
internationally. I work in many contrasting rural and urban locations creating site specific artworks
which are photographically documented using digital and medium format film processes. My inspiration
is derived from many sources such as aspects related to the natural world, historical and industrial
locations and issue-based concerns linked to ecology, pollution and consumerism. I have undertaken and
taken part in many art projects across Britain and abroad as well as participating in artist in
residence and exchange programmes. I also conduct environmental art and mixed media workshops for
schools and community groups, working with and helping people of all ages and abilities. In addition,
I have participated in many festivals and competitions and have been the recipient of various creative
awards, bursaries and prizes from institutions, galleries and councils.
Forms of art: visual 3D, visual 2D, environmental installations
Country: UK - Country of origin: UK - - Website - Instagram
---